Our Mission
Code of Ethics
To perform high quality repair and service at a fair and just price.
To use only proven merchandise of high quality distributed by reputable firms.
To employ the best skilled technicians obtainable.
To have a sense of personal obligation to each individual customer.
To recommend corrective and maintenance services, explaining to the customer which of these are required to correct existing problems and which are for preventive maintenance.
Tread Depth & Safety
A new car tyre begins life with approximately 8 mm of tread.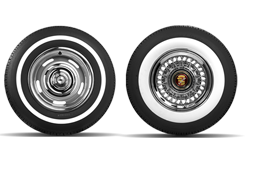 As the tread depth reduces, the tyres ability to remove water from the road surface also reduces, increasing the risk of aquaplaning and because the tyre is unable to transmit traction and braking forces to the road as effectively the vehicles stopping distances increase.
Although the legal minimum tread depth is only 1.6 mm, Independent research at MIRA shows that tyres with 3 mm of tread have an average 25% better performance than those at 1.6 mm - which represents an extra 8 metres stopping distance in wet conditions.
7mm 16% worn
6mm 31% worn
5mm 47% worn
4mm 63% worn
3mm 78% worn
2mm 94% worn