MOT class 4 only £39.00. Limited offer!
A reliable independent garage for a better service.
MOT testing is a legal requirement for all vehicles over three years old, with the purpose of making sure that your car meets the minimum safety requirements. Without a valid MOT, your car insurance and road tax become invalidated and your car may not be road worthy. Therefore, it is important that you make sure your MOT certificate is in date and you book your next MOT before your current certificate expires. You can do this up to one month before the end of your current MOT certificate.
To book your MOT, simply provide the details of your vehicle and where you are located on our contact form or by just giving us a call. We can collect your vehicle from your home or workplace and complete the work authorised and return it to you, washed and vacuumed.
MOT and car repair services
You can watch the team MOT your car and after that our engineer will guide you through any problems with your car and seek your authorisation before any work is carried out.
Details of any faults found and repairs carried out will be fully documented and you will be invited to complete a questionnaire after the work is done to ensure you were happy with the service you received. Servicing is carried out to the car manufacturer's schedule and specification.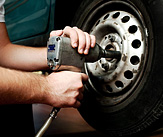 Eight categories of MOT
There are eight categories of MOT including motorbikes, mopeds, buses
and PSVs but most vehicles are classed as standard cars (Class IV) or
heavier models such as some Landrovers (Classes VII). Class IV - Cars,
Motor Caravans, Goods vehicles up to 3000 kg gross weight and
Minibuses with no more than 12 passenger seats.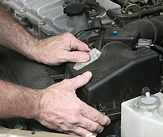 What is checked during an MOT?
During the MOT there are many items checked like your suspension and steering, tyres, brakes, lights, seatbelts and even general items like registration plates, exhaust system, emissions, vehicle horn, wipers and washers, windscreen and physical state of the vehicle. Bicester Garage MOT test is independent, fair, unbiased and safe.